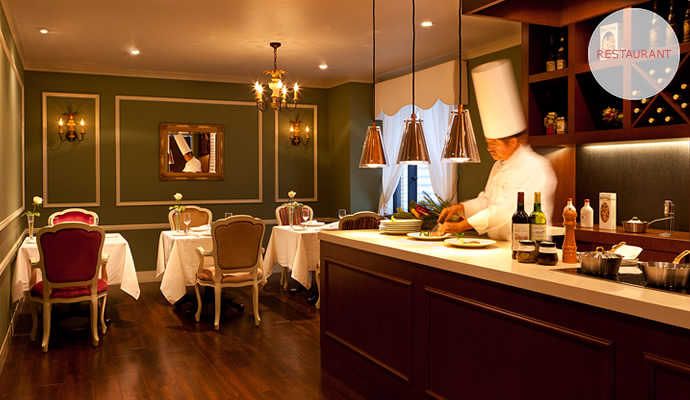 Hotel Francs takes pride in preparing dishes made from fresh local ingredients.
The grand chef visits local farmers and markets to find the best ingredients each day and visually inspects and tastes them himself.
I want our visitors to feast on top ingredients at their peak freshness.
This idea of the grand chief was the impetus for creating Maison de 1991, located on the top floor.
Reservations and inquiries: +81-43-296-2111
Hours: 5:00 p.m.-9:00 p.m. (last order 8:30 p.m.)
A 10% service charge is added to listed prices.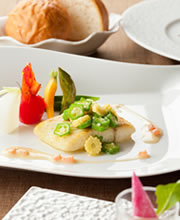 Maison dinner 2,600 yen (tax included)
Assorted hors d'oeuvres
Soup
Gratin-style scallops and tomatoes
or
Sautéed veal with forest mushrooms (+500 yen)
Special dessert
Bread and butter
Coffee or tea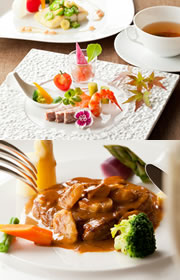 Seasonal dinner 4,500 yen (tax included)
Assorted hors d'oeuvres
Soup
Gratin-style scallops and tomatoes
Sautéed veal with forest mushrooms
Special dessert
Bread and butter
Coffee or tea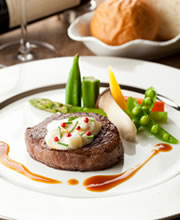 Steak dinner 5,400 yen (tax included)
Assorted hors d'oeuvres
Soup
Beef fillet steak with shallot mousseline (120 g)
or
Japanese sirloin steak with shallot mousseline (220 g) (+1,200 yen)
Special dessert
Bread and butter
Coffee or tea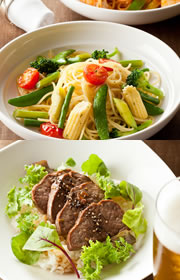 À la carte menu
Pasta dishes 1,500 yen (tax included)

Spaghetti with spring cabbage and bacon in a pepperoncini sauce (with salad and coffee)
Spaghetti with vegetable carbonara sauce (with salad and coffee)

Rice dish 1,800 yen (tax included)

Barbecued beef fillet rice bowl (with soup and side dish)